Watch Super Bowl 56 Live at Your Local Pub
Join us for the biggest event in the NFL calendar! Great UK Pubs will be showing Super Bowl 56 live.
You'll be able to catch every tackle and touchdown live on our huge HD TVs. It's time to pull up a chair, grab an ice cold beer and enjoy this year's Super Bowl. Find out everything you need to know about this year's event below...
---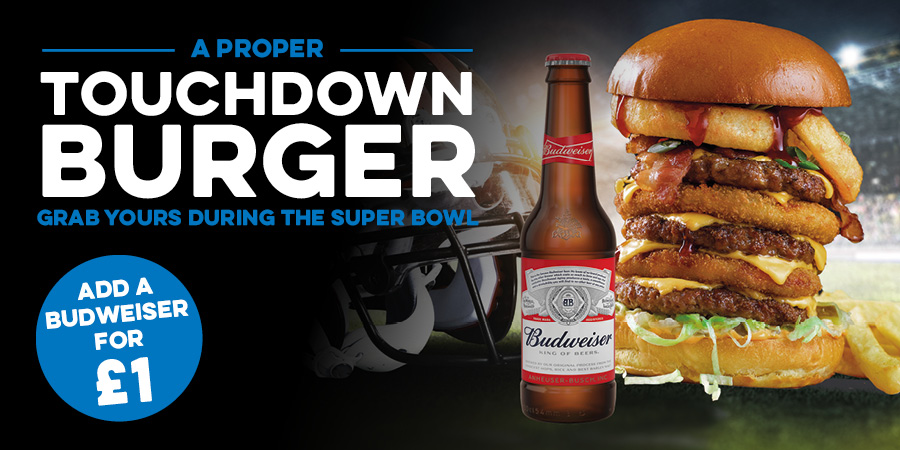 Introducing the Super Bowl Touchdown Burger
Are you ready to tackle our special Super Bowl Touchdown Burger?!
A stack of 2 coated chicken burgers, 2 beef burgers and burger cheese slices, topped with streaky bacon, beer-battered onion rings and Reggae Reggae Jerk BBQ sauce™. Served in a Soft glazed bun, with burger sauce, chopped onion, gherkin and iceberg lettuce with chips on the side. Add a bottle of Budweiser for just £1*!
We also have some amazing pre-book packages on offer. Pre-order your beer towers and Budweiser buckets for the big game and grab a Touchdown Burger on Sunday 13th February.
---
When and where is Super Bowl 2022?
Super Bowl 56 will take place on 13th February 2022. The SoFi Stadium in California - home of the Rams and the Chargers - will host the 2022 Super Bowl.
Who is playing in the Super Bowl 2022?
It's still too early to say which two teams will battle it out to win Super Bowl 56. The 2022 NFL Playoffs have finally arrived though and we'll soon learn which two teams will face off against one another.
Who is performing at Super Bowl 2022?
The 2022 Super Bowl halftime show is set to feature five rap and RNB legends. Dr. Dre, Snoop Dogg, Eminem, Mary J. Blige and Kendrick Lamar will perform on one of the biggest stages in the world.
---
Check back soon for Super Bowl 56 updates and to book your table for the big game.